When looking around at the walls and lockers during the first few weeks of school at Sandburg, one may notice a blue flyer for the Scholastic Bowl team. After taking a closer look, it becomes evident why the club is so unique and special.
Partially resembling a sports team in format, Scholastic Bowl attends select conference tournaments on Wednesdays while offering practices twice a week to develop skills needed for tournaments. However, instead a physical competition, Scholastic Bowl is solely academic, testing participants on their knowledge in various categories. 
Scholastic Bowl's members are noticeably enthusiastic about the club, as there are only a select number of students from each grade level involved. To them, it's not just any average after-school activity, but rather a fun hobby where they can be completely themselves.
Mr. Brigham, club sponsor and social studies teacher at Sandburg, mentioned various aspects he loved about the club: "the people, just watching students learn, but also going to tournaments, meeting kids from other schools, and especially, in our case, going to state every single year for seven years in a row."
Scholastic Bowl has been a club at Sandburg for many years, and over the years, it has experienced varying degrees of success. Recently, the team has seen a spike in performance, going to state 7 years in a row. The team has also won a plethora of sectional and regional titles — 17 total, which are evidenced by the many trophies on display in Mr. Brigham's classroom.
All the members of Scholastic Bowl have one thing in common: they love to learn. Learning is the basis of Scholastic Bowl, but it isn't like traditional classroom learning. The club allows its members to pick what topic they want to learn about, allowing for routine practice to be fun and interesting.
To members, there's nothing like learning about a topic you are truly passionate about. To initiate this process, Mr. Brigham asks everyone for their major and minor within the first few practices. This allows students to decide where they want to focus their studying within the club by choosing one or two different subjects.
Jamie Keenan, a sophomore at Sandburg, stated that, "I've always really been into both literature and fine arts, and I'm a big fan of art in general, so it just came to me instantly."
The conference matches are ultimately members' favorite part of the club. The competitions allow for members to let their capabilities shine and show how much they have practiced their subject. When members travel to different schools, they usually come across people from various schools with similar interests, allowing them to form connections and new friendships.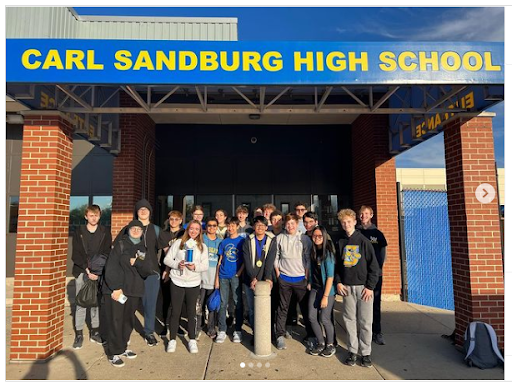 Frequent practices also allow for members of the club to get to know each other and develop friendships. Jamie Keenan also said that "Even though we are all in different grades, we still all find a way to hang out and joke about stuff while still being super serious with what we do."
Students use their time during the first hour of practice to hone their skills on the subject of their choosing. During the second hour of practice, members set up the desks in Mr. Brigham's classroom to play a practice match that simulates a real-life tournament.
These practices pay off when it becomes time to compete. When the first conference match of the season comes around, Sandburg has a huge advantage over other teams. Mr. Brigham makes sure to start practices early in September to assure an advantage over other teams who may not have had as much practice.
For those debating on whether or not to join the club, Mr. Brigham has a message: "If you are a person who likes to learn, or a person who likes to beat other people in competition, then this is the club for you."