The Steel Eagle provides the Sandburg soundtrack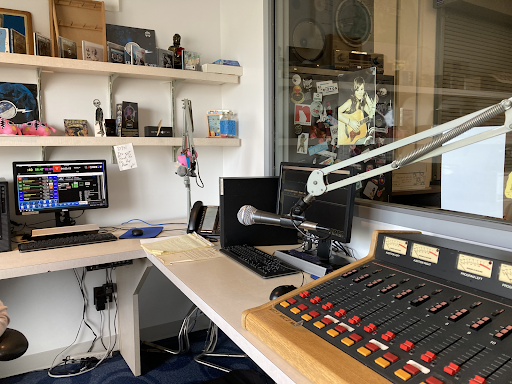 The Steel Eagle may be playing in the halls once more, under the help of the Radio Club Director, Mr. Milo. It has been four years since the Steel Eagle last played in the hallways, and after two years of trying to get it back, there is a chance that it may return. 
"I'd like to do it as soon as possible," said Mr. Milo, the Radio Director. "Before Dr. Smith came in, we had Dr. Tyrell, and when she came in they had to redo some inputs for the audio, like for just general stuff, and that's when it got taken out and they never put it back in. Then COVID hit and everything was just kind of crazy too." 
Mr. Milo told the newspaper that the only constraint stopping the radio is the technology aspect, as there is audio wiring connecting the radio to the intercom which needs to be fixed. There had been attempts to fix it last year as well. 
The radio used to be played during passing periods. It started one minute before class was dismissed and ran up to one minute before the end of the passing period. 
"When the music goes off, all of a sudden people knew, 'Oh, it's the one minute bell,' and they had to scatter to their classes." 
The only kids that are currently here at Sandburg that had the chance to listen to the radio in the hallways were Seniors. "I thought it was pretty cool honestly, it was like a fun little vibe just to have some songs play. They were usually pretty cringey songs, but they were still fun," said 12th grader Areen Krikorian. 
The Steel Eagle never stopped streaming online, at the website rdo.to/WCXS. Radio club plays songs in the primarily indie music, including pop, rock, hard rock, and much more.
Students make their own shows and play them on the radio. They screen the songs that play and get to decide which songs they want to play from the Steel Eagle's database. Students also help organize and manage the annual Sandburg's Got Talent Show. 
If you or someone you know is interested in joining Radio Club, please contact Mr. Milo at [email protected].