Pickleball's rise in popularity at Sandburg and beyond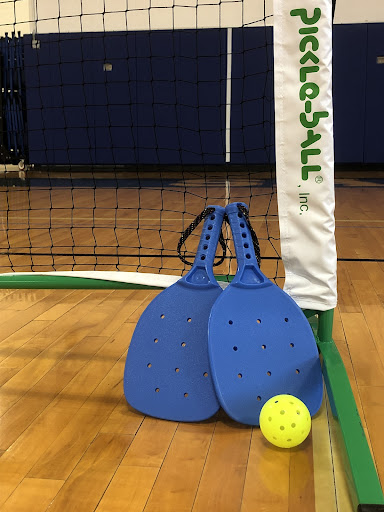 Physical Education is a class that involves learning a variety of sports by separating them into units. A lot of these sports are well-known and seen everywhere: basketball, football, soccer, and the like. But over the past few years, one sport has had a somewhat surprising rise in popularity: pickleball.
Pickleball is a sport that has elements of badminton, tennis, and ping-pong. It is played in either singles or doubles and can be played at either indoor or outdoor courts. There is a plastic ball and each player has a wooden or plastic paddle. A close-to-the-ground net divides the two teams and, similarly to tennis, the goal is to hit the ball over the net to the other team and produce unreturnable hits. 
According to USA Pickleball, the national governing body for the sport, pickleball was invented in 1965 by Joel Pritchard and Bill Bell. While at their homes in Washington, Pritchard and Bell noticed that their families were bored and had nothing to do. On their property, Pritchard and Bell had an old badminton court, but they lacked equipment. To solve this problem, they used ping-pong paddles and a plastic ball instead of regular badminton equipment. Two years later, Pritchard and Bell built the first permanent pickleball court in their friend's backyard. 
Pickleball was played in gym class at Sandburg decades ago, before the unit was eventually removed. Then, pickleball was reintroduced to P.E. during Covid because it is a sport that can be easily played while social distancing. Since then, pickleball has become a regular unit in many gym classes. When asked about why she enjoys pickleball, P.E. teacher Mrs. Carlson said "it's social, it's fun, it's fun to do with your friends, and it's incredible exercise." 
Outside of Sandburg, pickleball has recently risen in popularity. It is not uncommon to find pickleball courts at country clubs, parks, and park districts, with a growing number of leagues, tournaments, and open play time.
Similar to the rest of the country, pickleball has swiftly become well-loved at Sandburg. Over the past few years, many students have found themselves enjoying pickleball in gym class. Patrick Grossman, a Junior at Sandburg, reported that he likes how easy pickleball is to learn and play. 
Although pickleball may not be the most popular sport in the world, it's definitely gaining popularity at Sandburg and beyond. Many people have found fun and exercise in pickleball, which has led to it being dubbed America's fastest growing sport.