Powerlifting team at Sandburg builds muscle, character, and community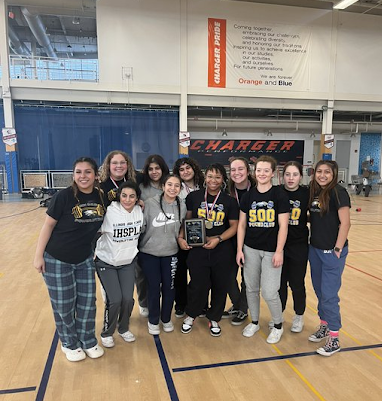 Sandburg's Powerlifting team is only in its second official year as a club, but it has managed to have a significant effect on its members. Coached by Mr. Carrier and Mr. Zimmer, this season has truly been a successful one. 
Students learn three different lifts on the team: squat, bench press, and deadlift. "The powerlifting team follows a specific workout that helps them get healthier, number one, and stronger across their entire body," Mr. Carrier says. They then lift in competitions separated by weight class, as well as male and female divisions.
There are typically around 100 students and five participating schools. At each event, each person gets three chances per lift, and whichever team has the most combined pounds lifted wins. "The energy at these meets are unmatched. All across the board all the guys and girls at all different schools are cheering you on so the environment is just amazing," says powerlifting student Colin Kissane. 
This year, the team took first place in both men and women's lifting in the regional competition at Stagg. In addition, they broke five state records. Sandburg Senior Nathan Biskup won first place at regionals. Many students also won first and second place throughout the season. When speaking of the team, Mr. Carrier says, "We're very fortunate that our whole roster is very talented this year. We have a really outstanding group this year on both sides."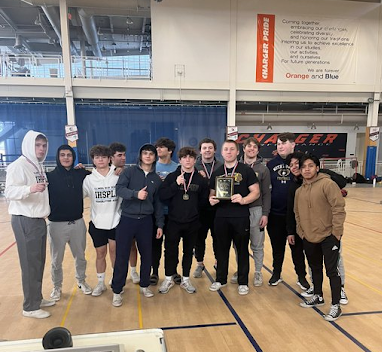 The students also feel the success of the season. Aspasia Drikos, a senior member of the team, said, "My best personal accomplishment was at the regional competition this past February. I placed first in my weight class, and I hit a new personal record on both squat and deadlift."
Kissane also celebrated several accomplishments this year. "Getting to get a team win between both the boys and girls team in my first year at the regional meet was awesome. Also I was able to set multiple state records including a 620 pound deadlift and a 1400 pound total within all three of my lifts," he said.
Senior Violet Jackson also spoke of her accomplishments this season, saying, "My best accomplishment is breaking two deadlift state records in two different weight classes."
Ryan Johnson says of his achievements that "My best accomplishment in powerlifting has to be winning the state title in my weight class (220) my junior year and winning the state title as a team. I hope to do the same my senior year."
However, beyond titles, the students and coaches value progress as well. Mr. Carrier explains, "My favorite thing about coaching is just watching all of the lifters have fine success, even if they don't necessarily win first or second place in their weight class. Almost always they push a record for themselves, and that really is the goal. If the students do the work, (and they do) they always wind up finding success and it's just great watching them."
Mr. Zimmer, who also coaches the team, says his favorite thing about coaching is "Being able to watch the kids improve every single day, and then being able to show their improvement through competition. Of her own growth, Linda Guadarrama says, "My best accomplishment was finally being able to deadlift over 225 pounds after failing that weight multiple times. It was truly a surreal experience."
The whole team is very connected as well. Nathan says, "My favorite thing about being on the team is the support everyone gives to each other no matter if you're at your highest or lowest point in life." Aspasia agrees, adding that her favorite thing about powerlifting is "Being a part of such a supportive community! At competitions, everyone's cheering on everyone, no matter what school you're playing for. We love to see others succeed."
Coach Zimmer explains, "They seem to really gel into a very tight group, and they enjoy being part of a team, and enjoy the competition that comes along with that."
Over the 20 plus years coaches Zimmer and Carrier have been coaching Powerlifting, the team has changed and evolved. Coach Carrier notes, "Well, there's just more and more interest. We have a really large distribution of people in the program, from very lightweight classes through super heavy weight classes, so it really attracts a wide range of athletes."
However, what hasn't changed is that "We've always really enjoyed what we can do for all kids," Mr. Carrier continues on behalf of himself and Mr. Zimmer. "It teaches them healthy habits and gives them the proper information on how to work out for a lifetime. It just so happens that there's also a competition, so that the kids have fun, and we showcase the work that they've done all year."
Guadarrama says, "The only goal is to better yourself. The main concept of powerlifting is to get better day by day and break these inner mental blocks we thought we would never be able to get through." Aspasia adds, " [It's] such a great way to improve yourself in more than one manner. You gain physical strength, you gain mental strength, you learn to commit to yourself, and you learn to really appreciate how awesome it is to see other people achieve their goals. I highly recommend it."
For anyone interested in joining next season, there are clearly plenty of reasons to do so. However, even if you aren't entirely sure about lifting or feel apprehensive, you can still participate. Mr. Carrier says, "It doesn't matter what your experience level is, we're going to start you right where you're at. We're going to teach you proper technique, nice and safe. We guarantee that if you do the work you're going to get results, you're going to get in better shape, you're going to get stronger and it's something that you can do for four years…If you're interested, you can work your way to a competition, if not, feel welcome to come and lift at any time."