Eagle Army celebrates winningest seniors and anticipates future success
Just as Sandburg thought that post-pandemic extracurricular breakthroughs were over, the Eagle Army took all by surprise with a remarkable finish in their most recent season. 
The Eagle Army is Sandburg's robotics team. Each year, they participate in a global event called The First Robotics Competition. The competition requires programs to build a robot according to a particular challenge within an eight week time frame. They then compete against other teams' robots with the goal of accumulating the highest amount of points throughout a several day event against at least 40 other programs. Traditionally, Sandburg competes in the Midwest Regional. 
Before the start of the competition, beginning in October, students begin to prepare for any challenge the organization may give them during pre-season. Throughout the eight week period of time, returning and new members collaborate in smaller groups, called build teams, and as an entire team to construct the robot. Most if not all students in robotics come to the team with no experience with programming or anything of the sort, so the experience can be both educating and demanding.
During building, groups are created with a leader and team of other students. Leaders are typically returning members and upperclassmen that are able to not only direct but also teach their fellow builders. In each group, a different part of the robot will be made to then be merged into a final, complete project. 
During the group building experience, students are largely on their own and have autonomy when it comes to what they create. Sandburg math teacher Mr. Brewcynski, otherwise known as Mr. Brew, comments that "technologically, they gain those types of skills as being part of the club, whether it be the engineering stuff that we do and physically building the robot or programming tasks that they have to complete and things like that. But then more generally speaking a good portion of the activities in our club are self-guided and self-motivated. Ultimately, the students decide what they want the robot to be, what they want it to do, and what they feel like they can get done in an eight-week time frame."
With proper collaboration and good teamwork skills, the teams overcome challenges, grow, and learn together. Maddie Peterson, a four year member of the Eagle Army, even says that "collaboration is just as important as the STEM." Senior Layna Oberg, another four year member, led her build team in constructing a reverse arm for the robot. She shared that "that was difficult because not only did [she] have to keep everyone organized in [her] group, but also there was just huge learning curve and it was a lot of experimentation and trial and error." However, her group and her were able to create an efficient and functional piece that they could be proud of together.
Sandburg senior George Pytel stated that "As seniors, a lot of the role is transferring knowledge to juniors, sophomores, and freshmen. Especially when we graduate, all this knowledge is lost, so you need to transfer it over, you need to show leadership, and get people motivated." Pytel overlooked all aspects of the robot construction this past building season.
At this year's Midwest Regional Conference, the Eagle Army was able to obtain the highest finish they had ever accomplished. At the competition, there is first a two day qualification round in which all teams compete against each other in ten matches. "Based on the scores in those ten matches, relative to the other teams at the event, everybody gets ranked from one to forty, or however many teams there are," explains Mr. Brew. The top eight of these teams become alliance captains and proceed to lead a team of robots from the remaining teams alongside their own in the following round, known as the playoffs. In the 2023 qualification round, the Eagle Army and their robot were alliance captain number 6. "This was our best robot in history," says Mr. Brew.
This accomplishment marked many milestones for Sandburg's robotics program in addition to their top finish. Not only did this win allow the current seniors to be labeled the winningest seniors, for having the most collective success during their time in program history, but it also solidified the foundation for more success to come with future generations. 
"Our program, generally speaking, has been building towards this kind of a finish. The previous two years we competed, if you take out the COVID year where there was no competition, we've made it to the finals twice; we've been the final's runner up. Our robots have been becoming more sophisticated, more interesting, more adapted doing the challenge every year and this was sort of the culmination of some of those things that we've been building towards," explained Mr. Brew.
"Every year that Maddie and I have been here we've done considerably better each year," states Oberg. Pytel continued, stating, "If you were to look seven, eight years back, we were struggling with funding and student involvement, and a lot of the concepts and the materials that we use now were unimaginable."
Maddie Peterson commented upon the future for the Eagle Army. When asked if she saw a continued positive future for the team, she said, "I want to say yes, but I also fear that since a lot of seniors are going to be leaving that we will have a lot less people in the club." This year, the club was composed of upwards of one-third senior members, and a vague concern has risen regarding the continuous growth of the program.
From an optimistic viewpoint, Pytel says that everything the program has acquired regarding abilities and mechanisms "means that we are on an upward trend regardless of who we lose. I am confident that the team will be better in five, six, seven seasons from now and the student involvement should increase, we should keep learning, keep growing, make sure that transfer of knowledge is the best we can [make it]." His idea is that "as long as [we] transfer that knowledge, we should eliminate the idea of forgotten strategies and abilities" and keep the program in good shape.
Regardless, "more people need to join" seems to be a central priority according to both members and sponsors of the club. "We've got a good group coming back, from the underclassmen that we have now who've gained all that experience from those [winningest] seniors, but we are looking for new members, particularly next year, where we're trying to refill our roster from the graduating class," says Mr. Brew.
Robotics requires no prior knowledge of design, programming, or engineering and offers an immersive opportunity to any and all students who choose to join. "There's not a whole lot of academically-minded competition teams, so we fall into that category where you don't have to have any experience. If you want to be a mathlete, you probably have to be pretty good at math from the beginning. If you want to be on the robotics team, you can be totally green and come join us and we can teach you a bunch of stuff from scratch," explains Mr. Brew. 
"The more the merrier," Mr. Brew continued, "more students means more capabilities we can have the robot do in each and any competition."
Not only is robotics a great club for those looking into technical discipline of any sort, but also anyone wanting to be intellectually stimulated or be part of a team. "There are roles for people that are non-technical. We need people that are artistic….people that can write well…people that just like to organize…there's a lot of roles that we have for people, even if they're not interested in learning to program or learning to build a robot," said Mr. Brew.
"It is so fun. Even if you don't want to do STEM, you just have a great time and you make amazing friends. It's a great experience. Competition is the highlight of every season, and it also just teaches you how to work with people really well," shared seniors Hamza Alhroub, Layna Oberg, and Maddie Peterson.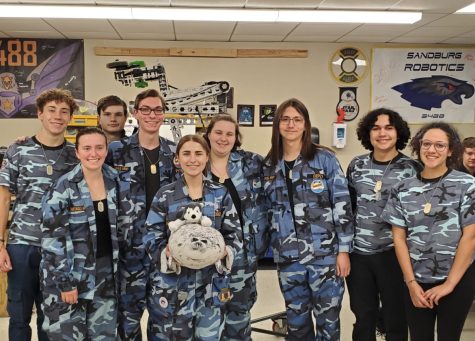 "A quote that's been really important to me is 'shoot for the moon, even if you miss, you'll land amongst the stars.' I'd say you should try hard opportunities, and if you don't succeed at them, you'll still be better off, you'll still have that experience that you've learned. And I would say, that really applies to anything: AP classes, honors classes, extracurricular clubs, service work. I would say, go give it your best try and if it doesn't work out, 'oh well,' at least you can say that you tried and you probably got something out of it," said Alhroub, who originally joined the club in hopes to determine where his passion lies.
"If I could sum it up into one phrase, it'd be 'don't be afraid to fail,'" added Pytel.
A growing extracurricular team, the Eagle Army is gathers bright, dedicated individuals and fosters a welcoming environment – two things that are ideal for any social and academic opportunity. Even as this year's group of successful seniors leave to enter a new chapter of their lives, their legacy will live on until history is rewritten.