Students and staff have fun with spring fashion trends
Spring has officially begun, and Sandburg students are slowly retiring their heavy winter jackets and dressing for the transitional weather of the new season. Between florals, skirts, pastels, and the "sporty look," the new season has brought about new trends amongst students. 
Sandburg sophomore Iris Delis likes to wear floral patterns and bright colors during the spring. This style can be incorporated through floral dresses, pastel cardigans, or solid colored pants.  These color schemes are both uplifting and compliment the seasonal environment. "I think it's necessary after a gloomy winter," Delis says.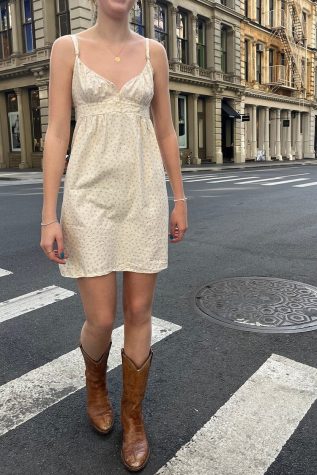 Her favorite spring piece consists of a satin midi skirt. "It's so sleek, and I think it's very versatile with tops," she explains. From a plain white shirt to a statement graphic tee, a satin skirt is a great staple for this season. 
Jaylana Thomas, Sandburg fashion student, has seen more students in shorts as the weather begins to grow warmer. "Girls wear shorts with a sporty fitted jacket and the guys wear more of a short sleeve shirt or hoodie," she states. Adding a zip up or long sleeve shirt to an outfit with shorts can also allow for a balance between both the warm and cool weather that spring offers.
Thomas would like to see students trade their "comfortable lounge clothes" for brighter colors. While oversized hoodies and leggings may be the go-to school look for students, dressier pieces such as jeans and cropped tees allow students to feel more put-together and confident in their outfits.
Accessories also allow for a more cohesive spring look. "I accessorize my outfits with headbands, hair clips, socks, shoes, purses, and other small things like earrings or bandanas," Thomas says. These small details add personality and pops of color to an otherwise casual outfit.
Sandburg Spanish teacher Ms. Emily Brown dresses for the inconsistent spring weather by layering her outfits. "I bring a jacket or sweater for the morning, and hope it warms up by the afternoon when we leave school," she states.
Ms. Brown often finds outfit inspiration by both window shopping and scrolling through social media accounts. Ms. Brown's personal style is also impacted by the clothing student's wear to class. "I appreciate talking to some students about style, because it helps me stay on top of current trends," she explains.
Brown has seen many students dress up in floral prints and more casually in sporty attire such as shorts and crewnecks. Students can also wear pieces such as tennis skirts and tank tops to achieve this style. 
With the interchangeable outfit options, variety of colors and textures, and the license to liven up the wardrobe, springtime allows Sandburg students to experiment with different trends and feel comfortable and confident in their clothing.