Feature Teacher: Mr. Olsen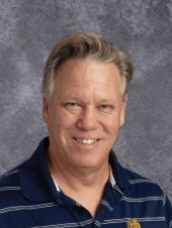 Q. How long have you been working here?
A. Since 1998. It has been 25 years.
Q. Has Sandburg changed a lot over that time?
A. One of the things, well obviously, when we first started we were in the North Building and now we have been in the Central Building for the last 18 years. Classes have changed a lot with the curriculum that we've used. We've probably gone through 5 different curriculums in the 25 years. So that's always something that is changing.
Q. What was the best part about teaching here?
A. Definitely the relationships, not only with students, but with faculty. You know people in the department were great, they were like a family. They always got each other's back, and that's the big thing.
Q. Was there a reason why you wanted to become a teacher?
A. Actually, it all kind of happened by accident. I always knew when I was in high school sitting in a math class and another kid would ask a question, and I would always kind of say to myself, "Well, why isn't the teacher answering it this way?" So I kind of had that in the back of my mind.
Q. What are some classes that you teach? Which one is the most fun to teach?
A. I have honors Math 1, I have Math 1, and Math 1 co-taught with Ms. Walker. The co-taught is a fun class because there's two teachers and you can bounce ideas off of each other. We can share lectures and take different roles on at different times.
Q. What does a typical day look like for you?
A. I get here and try to get everything ready for the day. My first two periods are with Ms. Walker. We meet a little bit, little collaboration, and get ready for the day. Then I go shift gears into the honors classes and then pull it back a notch for my last period which is Math 1. Then off to after school, there's always something like mathletes or MU Alpha Theta.
Q. Do you run/sponsor any clubs? How have they added to your experience at Sandburg?
A. Yes. I have Mathletes, MU Alpha Theta, and I coach JV softball. It's a total different feeling from the classroom cause you're dealing with kids in a different way, you know, different outlooks. You're not just feeding them knowledge and having them spit it back to you. You are actually interacting with them more. In sports, it's just seeing the kids get better. As you go through a season it's kind of neat to see how they go from a certain level with their abilities to bringing it up to their full potential.
Q. If you hadn't become a teacher, what other job would you want to have?
A. I was going to be a mapmaker. That was my degree in college. I was a cartographer, and the early interviews didn't pan out.
Q. How do you feel about this being your last year at Sandburg?
A. Bittersweet. I mean, I am looking forward to whatever comes next. I have been doing this for 38 years, so to be able to do something a little bit different will be fun.
Q. Do you have any advice for students that might want to be teachers someday?
A. Be ready to work, because it is not easy. You get out of it what you put into it. At the beginning you gotta work to get everything right. I mean, you might do something one year and come back next year and be like, "Well, that didn't work, so I'm going to try this now." It's all about change and you have to be able to adapt.