MSA Iftar dinner kicks off Ramadan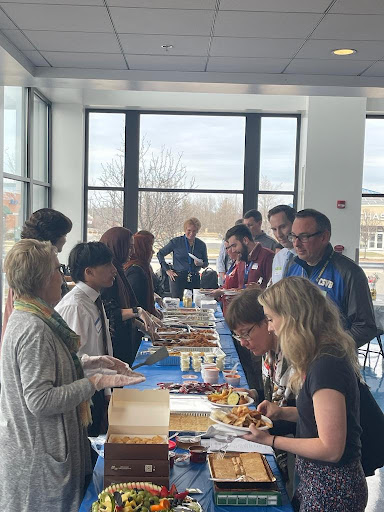 The Muslim Student Association, the a student-run club also known as MSA, hosted a dinner event on Tuesday, March 21 for the Sandburg community to kick off the beginning of Ramadan. 
Ramadan is known as the month of fasting from food and water, but that's only a part of what the holy month entails. The purpose of Ramadan is to seek forgiveness for sins, break the bad habits that affect us everyday, and grow a spiritual connection with God and Islam. It is the month the holy Quran was sent down to Muslims. During Ramadan, Muslims practice self-restraint and do what God has ordained them to do as opposed to what they want to do. 
Ramadan is 30 days long, and it is the 9th month of the Islamic calendar, with the beginning of the month being dependent on the new moon. The hours of Muslim fasting during Ramadan varies depending on where they are. But Muslims in Orland Park fast about 15 to 16 hours daily during this year's Ramadan observance. 
Each semester there are two new leaders of MSA, and this semester's leaders are Shahd Zain-Edin and Mohammed Zeidan. Zeidan is a senior in MSA, and he said that "the reason we had the kick-off dinner was so that we could show and express our religion of Islam to our school, teachers, and students, and to show our teachers appreciation by providing them with food that relates to our culture and religion."
The MSA team mainly focused on inviting teachers and staff, but also hosted a number of club members and encouraged members to invite other students. MSA students also invited some teachers and staff to share in the celebration.
MSA worked with Ms. Koss, Ms. Dahlgren, and Mr. Klene to set up the Pac Foyer and all the tables. The MSA team helped set up decorations from the local mosque.
MSA worked with a lot of generous sponsors who were willing to donate food. The dinner served at the MSA Ramadan Iftar (the name for the fast-breaking evening meal) included beef and chicken shawarma prepared by Pita Pita Mediterranean Grill, as well as chicken wings, chicken tenders, and fries prepared by JJ Fish & Chicken. Dessert included knafeh (a popular sweet cheese pastry) courtesy of Salaam's Kitchen, a fruit arrangement courtesy of Fruit Republic, and Melt n' Dip puffs, courtesy of Melt n' Dip.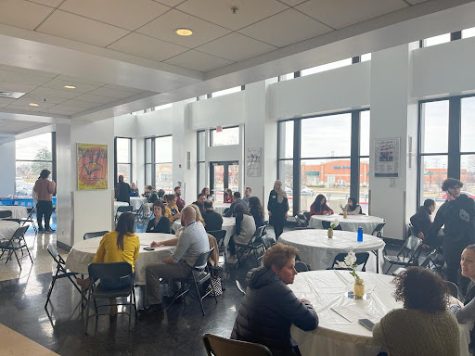 Zeidan said, "My favorite part of the dinner was the Question and Answer session with Sheikh Hassan from the Orland Park Prayer Center because I know that just showing the teachers our religion and culture doesn't give them the full picture, so the question and answer allowed teachers to spark their curiosity and get them to get to know their students and their religion even more so that they can support them when they are in the classroom."