Swim Guard's long history of skill and service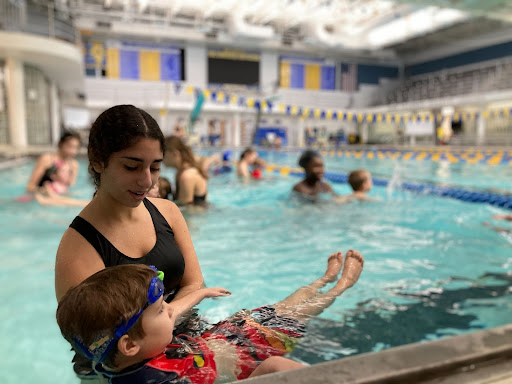 For over 20 years Swim Guard has been teaching kids from 2 years old and up how to swim. Even though many students may not know about the program, Swim Guard plays a critical role at Sandburg, offering students the opportunity to get service hours by teaching kids how to swim while having fun and meeting new people along the way. 
"Swim Guard started based on a need that we saw for the community," said Swim Guard sponsor Mrs. Brown. "We wanted to make sure that students and kids had access to swimming lessons. We have a lot of talented swimmers that have always come through Sandburg so we kind of created this program based on the need that we saw."  
Students teach lessons based on a level system, starting from level 1 and going up to level 5. Level 1 is the lowest, in which guards teach young kids how to get used to the water, while guards in Level 5 help to perfect swimmer's strokes and their starts. After level 5, swimmers can sign up for POSA (Palos Orland Swim Association), which also uses the Jane Caliendo Aquatic Center here at Sandburg. 
"I like Swim Guard. It's pretty fun," said student guard Eli Herrera. "I teach levels 2A and 2B, and I really like the service hours we get, and that we get to teach kids how to swim. We also get a lot of experience, and we get to have fun as well."
Swim lessons run from 10:30 AM – 2:10 PM almost every Saturday, and students receive 3.75 hours of community service for each full day of lessons attended. Swim Guard also offers guards an opportunity to get a job teaching swim lessons over the summer.
Swim Guard used to just be called Guard a few years ago, and looking through some of the old yearbooks, it appears under that name. In the 1989 edition of The Poet, Sandburg's yearbook, you can find a short caption that shows how Swim Guard used to look. It was written by then-junior Helen Suh and reads "Guards Serve Community: Sandburg Guard has been serving the community for many years. On Saturdays, this group of dedicated Sandburg Swimmers taught swimming lessons to small children."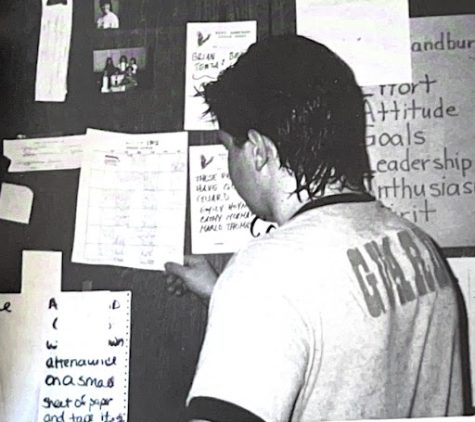 This is still the same today, and at the end highlights the importance of swim safety, which remains the number one responsibility in the club. It finishes by saying that Swim Guard had "the reputation as one of the best programs in the community." This shows the importance of the club and how long it has maintained community relevance.
Swim Guard has been one of the fastest growing clubs, as it is a very unique experience, and it has been gaining popularity recently. "It's kind of just blossomed," said Mrs. Brown. "We've had more kids join recently. I think that it's growing, with time. When I started here, we had about 15 guards total that would come to lessons, and so I think we've grown a lot since then. We've grown especially with word of mouth – now we have about 50 guards."
If you are interested in making a difference through Swim Guard, please contact Ms. Brown or Mrs. Jarosik.