Jazz Dinner Dance 2023
On Friday, February 10, the CSHS Music Boosters sponsored the annual Jazz Dinner Dance at 7 pm at the Chicago Gaelic Park center. The Sandburg jazz, orchestra, and choral ensembles along with the Orland 135 Junior High orchestras, bands, and choirs had worked hard to put on an amazing show that entertained families and friends and even swept some onto the dance floor. 
The night began with a performance by the Sandburg Chamber Singers, which set the stage for a relaxed night full of vibrant music. Sandburg's Jazz Ensembles 1 and 2 as well as Jazz Combo followed, with a special performance by the Sandburg High School Alumni Ensemble. Improvised solos were woven into the full-group pieces, making for an exciting listening experience, and Orland 135 proved to impress the audience with its young and talented musicians.
Regarding the sort of environment these performances created, Chamber Singers member Andrea Karlovics remarked, "The atmosphere was nice. Everyone always clapped after a song was played and when a student was mentioned. I think the atmosphere was even better when people got onto the dance floor."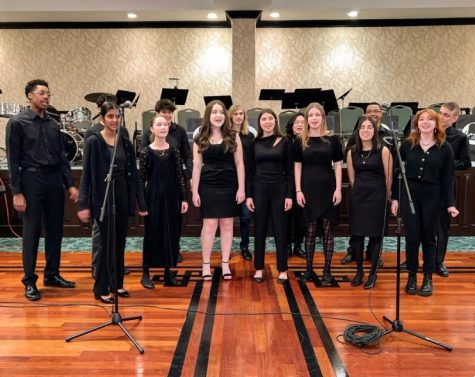 Those who attended were served a family-style dinner and dessert, as well as had the opportunity to purchase raffle tickets to win treats ranging from game tickets to a guitar signed by the musical group Alabama Shakes. All proceeds, including ticket sales (tickets were $45/adult, $25/child, or $390/table of 10), will be used to benefit the Sandburg music programs.
The talent and passion showcased was truly inspiring. Karlovics agreed, saying, "Being only in the choir program, I always knew that the band was great, but I had not truly seen them perform. This event made me realize that the band at Sandburg is amazing. This event also started opening up the world of jazz to me. I really had not listened to it prior but since then, I have been."
The Sandburg music program is a special one, and its sense of community – as seen at the dinner dance – is very strong. Karlovics stated, "The Sandburg Music program means a lot to me. I have met so many awesome people because I am in this program, including some of my closest friends. I really loved being there to support those playing."
Audience member Mrs. Leanne Stoterau Hahn, the St. Francis of Assisi Parish Music Director, also enjoyed the performances, praising "their understanding of jazz; clean rhythms and well-tuned unisons, good intonation and tuning, and syncopated rhythms." She continued, saying, "The level of musicianship and understanding of one's place in the ensemble was impressive!"
When asked how the night's events impacted her, she said, "The performance stirred pride as a music educator and mentor and real appreciation for their instructors. It also brought gratifying happiness to me personally, at a time when we could all use something to uplift our spirits. February is hard – because winter is still hanging on and spring is not here yet. This is a good time of year to have something great to look forward to!"
It is clear that the 2023 Jazz Dinner Dance was an enjoyable night for performers and spectators alike. As Mrs. Hahn said, it was "a joy to hear, a joy to watch, a joy to experience the energy!"