New coaching staff for Sandburg Hockey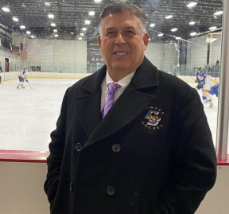 For the 2022-2023 hockey season, Sandburg welcomed in an entire new coaching staff for the hockey program. With the introduction of new faces in place of familiar ones, many players, fans, and community members alike want to get to know the new leaders and are curious about the team's new directions. 
It seems natural to think that familiarity is a vital asset for a team and their relationship with their coach; for example, if a player has been in the program for years, the head coach has seen them develop and knows their weaknesses and strengths.
When asked whether or not the team is at a disadvantage playing for coaches that haven't coached them in past years, Michael Egan, a center on the Varsity Eagles Hockey Club, explains, "Our coach has coached a handful of our players when they played youth hockey, but for the players who he hasn't I don't think there is a disadvantage at all."
Another player, Logan MacInnis, a defender on the Junior Varsity Eagles Hockey Club, stated, "I think it's good to have fresh takes and new ideas".
The players seem to have a positive attitude towards their new coaches, and it seems they felt that the team had benefited from a new coaching staff. Michael Egan said, "I do think the team has benefitted from this coaching staff, because we've been running practices differently and focusing more on specifics of the game."
Logan MacInnis said, "I would say we've seen more success in our regular season thus far." The valuable aspects of new ideas and strategies leading to more success are clear markers that this new coaching staff has benefitted the Sandburg hockey program this season. 
The new Hockey Director and Head Varsity Coach of the hockey program is Mr. Mike DiStefano. Coach DiStefano is by no means "new" to coaching; he is only new to coaching the Eagles. He has coached hockey for 12 years, previously with the Orland Park Vikings and the Chicago Hawks.
Some notable achievements he has accomplished in his years of coaching would include winning a state championship in 2020 with the Orland Park Vikings and even working as an Off-Ice Official for the NHL for 10 years. It's quite clear that Coach DiStefano is very experienced in the sport of hockey and is qualified to lead the Eagles to a successful season.
When asked if he was able to connect with the team, Coach DiStefano replied, "The team is like a family to me. I can't possibly say enough about our team. Extremely talented players. It's my privilege to coach them."
With nothing but positive words about his team, it is apparent that Coach DiStefano not only is confident about the Eagles Hockey Club's potential and success but is happy to coach for Sandburg for a long time. "I plan to stay at Sandburg for years to come. As the director my plan is to build this program into one of the best programs in the state. Sandburg is blessed with many great local athletes.  The future is very bright here."
But for any new coach, many wonder about the effects of familiarly or lack thereof with the players and program. Coach DiStefano stated "I think it's very important to be around this team. We are a family. We learn to win and lose as a TEAM. I personally believe it's bigger than hockey. We teach life lessons. I know in my heart when these young men leave our program, they will go on to be leaders. I'm very fortunate to be able to coach this group of amazing players." 
A coach doesn't have to know their players for years to be able to teach them the lessons they will need in order to excel not only in their sport but in their future as well. A good coach is able to produce a successful season, but a great coach is able to produce successful people.