December's Dance II showcase sure to wow audience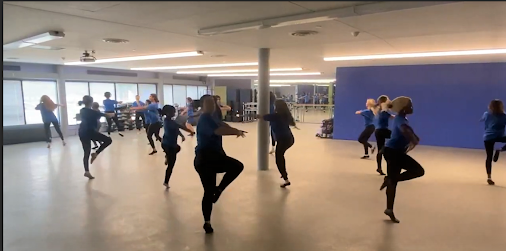 It has been months since the first day of school, and the students of Mrs. Roberson's Dance 2 class have been working hard to put on their annual dance showcase on December 13, 2022 at 7pm.
From styles such as lyrical, contemporary, jazz, and hip hop, the students have learned various choreography routines to perform for friends and family to enjoy.
Upon asking Mrs. Roberson what part of the showcase she is most excited about, she said, "The most exciting part of the showcase is seeing my students feel proud of their hard work put in all semester and seeing them enjoy themselves while performing for the audience. It is one of the most rewarding parts of my year." 
The Dance 2 showcase is an exciting opportunity to have the dancers perform their own group choreographies and entire class dances.
Reflecting on past Dance 2 showcases, Mrs. Roberson said, "This is my 19th year teaching at Sandburg and it has been a production since I have been here! I asked the legendary Peggy George, who started the dance program here at Sandburg, and she said that she thinks it was started in 2001!"
Alongside Mrs. Roberson, Ms. Wilinski, student teacher for this semester, has been teaching the students the dances as well. Mrs. Roberson commented, "Working with Ms. Wilinski has been so exciting. Being able to work alongside someone who is so passionate about dance, relationships, and creating an environment to grow empowered learners has been such a positive experience."
Be sure to save the date for the Dance 2 showcase, and bring some friends and family.