Welcome to Château la Roach!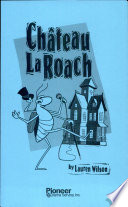 The fall play is coming up in Carl Sandburg and it surely will bring lots of entertainment. Between October 20-22, the school auditorium will be filled with the laughter of students and families because of this year's play, Château la Roach.  
In comparison with last year's play, The Women of Lockerbie, this year's play is the complete opposite. Château la Roach tells the story of two French hotel owners that are in constant battle with pesticide-resistant, 6-foot cockroaches. 
This year's play shows Sandburg's varying talents because of the genre switch. But why choose a less serious play? For the past few years Sandburg has shown its talent in portraying serious plays. However Mrs. Etchason, the play's director, said, "It's time to do something goofy." 
Not only does this year's play bring a lighter message to the audience it also allows for the students, new and old, to show their versatility through characters. Mrs. Etchason said, "I want to show the variety of the actors," and a way to do that is a genre change. 
Sandburg's talent is supported by the carefully picked actors and actresses which bring their character's to life. How are these people picked for their roles? Sometimes the decision relies on how versatile the actor or actress can be. It can depend on if they can play characters younger, older, more optimistic, more somber, or from different locations. Dialects are hard to master but "Sometimes people have an ear for it," said Mrs. Etchason. However, a great actor can also use their own personality to bring their character to life. "My character is nerdy and funny and I think it fits my acting capabilities," said Cayla Evans, who plays Nigela.
Not only is the play a chance for the audience to enjoy themselves but it also allows the actors and crew members to create memorable moments. "I think it would be good for my experience for future purposes," said Cayla. Experience can be gained through acting in school plays which is beneficial to a student's possible career.
Since the play is coming up, preparations are almost complete and the actors are working very hard to create a fun and amusing play. Cayla also said, "I am in Speech, doing two comedies," which is also the genre for the current play. Speech is another way that can help prepare for the play because it gives a student a chance to try acting. Speech has a variety of genres, many that could be used as practice for the play. 
Sandburg is excited to put on a more comedic play after the events of recent years which made it difficult to perform live. Let's look forward to the fresh talent ready to rock the stage with their humor and charm. Get ready to laugh your head off at the crazy adventures in Château la Roach!