Athletic training club lends a healing hand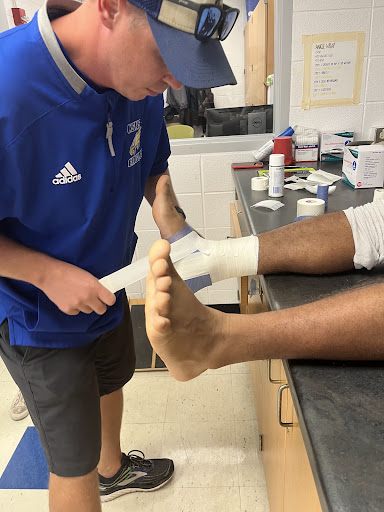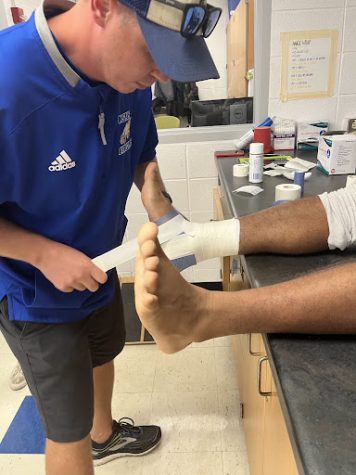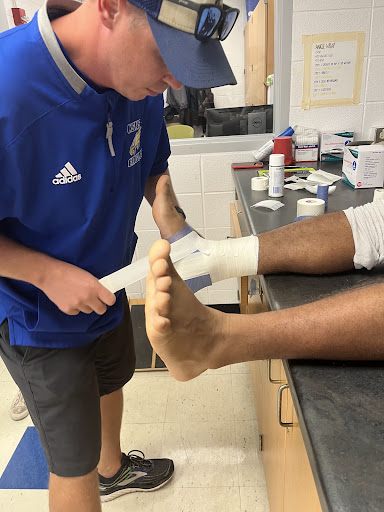 Coach Schuber, a graduate from Sandburg, took the first sports medicine class provided by Sandburg before going to the University of Illinois to pursue a career in Athletic training. 
Coach Schuber and Coach Ryan, who are certified athletic trainers, are responsible for the health and wellness of the athletes. They teach the students in the club basic taping techniques, rehabilitation, heat illness prevention and how to treat it, emergency procedures, and CPR in the summer training camp. 
Each team of trainers has a radio to be able to contact the coaches. For any sports games, the trainers are responsible for both home and away teams with the approval of the away teams coach.  
When they are off the field the trainers are able to do homework during practices but they have to keep an eye out for any injuries or giving the athletes water. They have to find time to finish homework and for their social life.
Schuber said that before Covid hit there were 30 student trainers in the club. He mentioned that " during covid students didn't know about the club, what they did, and had about 5 student trainers."
In the club now, there are about 20 student trainers helping and taking care of the sports teams. 
 Samantha Rose, a sophomore in the athletic training club, has been in the club for two years and takes care of the JV Football team. While being in the club, it takes a lot of commitment to take care of the teams and is hands-on.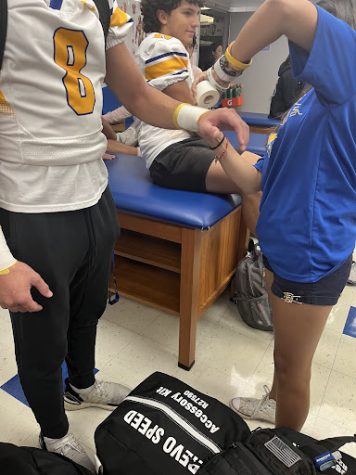 She said, "that being in the club was like being connected as a family". Sometimes on Fridays, the athletic training club would do dinners and eat together. 
She plans on becoming an athletic trainer in the future and wants to do training while in college. 
 Veronica Bigos, a senior in the athletic training club, has been in the club for two years and takes care of the Varsity Soccer team. She has always wanted to have a career in athletic training and doing the club is giving her the experience of what she wants to do in the future. 
Veronica said, "the sports medicine class is another thing that pushed me into joining the club."
She has made many friends through athletic training. She is also able to get connections and talk to other trainers from other schools due to being in the club. 
As Veronica says, "Being in athletic training is like being in a sports team yourself because if the team has practice, you have practice".